About HIGHFIVE
Embracing Global Challenges for Agri-Food Excellence
The HIGHFIVE project is a dynamic initiative focused on empowering agri-food companies to excel within the global landscape. With a rapidly evolving market, intense international competition, and the demand for swift digital and sustainable transformations, the project is here to catalyze growth and innovation.
Our Mission: Propelling Agri-Food Innovation through Collaboration
At HIGHFIVE, our core mission is to drive the European agri-food sector into a new era of digital resilience and sustainability. Through targeted support, interregional collaboration, and strategic investments, we're paving the way for small and medium-sized enterprises (SMEs) to navigate challenges and seize opportunities.

The HIGHFIVE project brings together a diverse consortium of experts and stakeholders committed to driving change:

SMEs: Small and medium-sized enterprises form the heart of our initiative, benefitting from tailored support.
Clusters: Collaborative clusters amplify innovation by fostering connections and knowledge sharing.
4-H Stakeholders: Companies, research institutions, and governmental bodies contribute to a holistic innovation ecosystem.
Less Developed Regions: Strengthening ties in these regions to bridge the gap and foster cohesion.
Why HIGHFIVE Matters
Key Objectives: Navigating challenges, unleashing potential
The HIGHFIVE project is committed to achieving several crucial objectives
Empower SMEs with the tools and connections to tap into European and global value chains.
Bridge demand and supply across regions to facilitate international market access for innovative digital solutions in the agri-food industry.
Break down investment and innovation barriers hindering growth.
Strengthen innovation ecosystems in less developed regions by involving companies, clusters, and quadruple helix stakeholders.
Forge sustainable connections between regional ecosystems to enhance European cohesion.
Cultivating a Digital , Sustainable, and Resilient Agri-Food Landscape
In a world where agility is key, the HIGHFIVE project emerges as a vital catalyst for change:
Sustainability Focus: Our commitment to sustainability ensures a greener and more resilient agri-food sector.
Digital Evolution: We're propelling agri-food companies into the digital age, equipping them with innovative solutions to real-world challenges.
European Strength: By fostering collaboration and connections across regions, we're fortifying the foundations of a united and resilient European agri-food community.
Consortium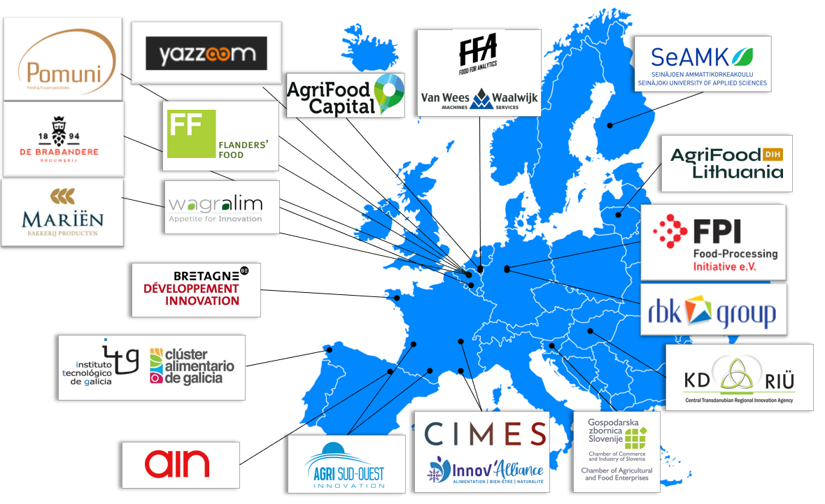 The HIGHFIVE consortium covers 39 NUTS2 regions from 9 EU countries, ranging from more developed, over transition to developing regions, that will benefit from the project's actions and outcomes. The HIGHFIVE actions aim to strengthen these regions via collaboration and sharing of success stories and guidelines. In doing so, HIGHFIVE will contribute to strengthening the European agri-food value chain and contributing to a more digital, sustainable and resilient agri-food sector in Europe.
The HIGHFIVE consortium finds its origin in the existing Thematic Smart Specialisation Partnership (TSSP) 'Smart Sensors 4 Agri-food'. The strategy, implementation roadmap and network of living labs of this Partnership, developed via Connsensys (COSME – 822098) and S3FOOD (H2020 – 824769), form the basis and starting point for the current project.